Ghana Information Technology & Telecom Awards (GITTA 2021) has open Nominations for the 11the edition.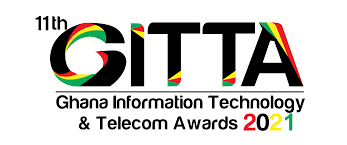 The Ghana Information Technology & Telecom Awards which has been the Oscars of Ghana's ICT industry for over a decade will once again celebrate and showcase disruptions, innovation and cutting-edge technology in the ecosystem.
The awards will recognize digitization across all sectors, including the Public Sector, Banking, Telecoms, ICT, Manufacturing, Agriculture, Health, and all other sectors involved in digitization.
This year's edition of the prestigious awards is scheduled to hold at the plush Mövenpick Ambassador Hotel in the heart of the city of Accra, on October 29th 2021. 
GITTA was created as a strategic platform to recognize, reward, and showcase the pioneering ICT initiatives driving Ghanaian private and public sector innovation with a vision of setting a benchmark to the sub regions' wave of development in ICT.
InstinctWave Chief Executive Officer, Mr Akin Naphtal, expressed his excitement about the 11th edition of the awards scheme, describing it as a catalyst of innovation and digitization on the African continent at large.
"We cannot underestimate the role of technology and digitization and its importance to national development and the development of the entire continent of Africa. 
"We will be looking out for organizations that are at the forefront of innovation, disruptions and cutting-edge technology which is constantly transforming the lives of the modern day Ghanaian and African at large," he stated.
According to him, GITTA will shine the spotlight on those working across the information technology industry and innovators who have worked tirelessly to deliver top-notch technological innovations that ultimately achieves incredible successes for their clients.
He added that it is the belief of his company that the awards will inspire a new generation of spark, technology disruption and general growth in the tech space in Ghana and on the continent as a whole. 
It promises to be a night of great entertainment, good food, and networking which should not be missed by industry players and stakeholders; especially in a time where technology has played a major role in navigating the world through the difficulties brought about by the COVID-19 pandemic.
Entries are open to all organizations and bodies within Information Technology space across Africa. All technology and players are to visit the GITTA website to submit entries.
source : modernghana.com